So I have been busy with my fitness and conditioning, not to mention preparing for Fashion Week in September and Comic Con in October.
But I always have the time to relax and shop, even thought recently I am not into it as much. Maybe its a sign of my changed tastes.
Anyways, I went to Off Saks 5th yesterday and looked through their inventory, everything was 30% off and red marked items were 60% off. I was juggling between Spierry Top Sider Floral Sneakers, a Rebecca Minkoff iPad case, and another Rebecca Minkoff bag.
I said "SCREW IT" and got the Rebecca Minkoff Purple Boyfriend Crossbody.
The leather is gorgeous and yummy plus its my favorite color.
I paid $85.00 for it. Yes, my baby had the red tag.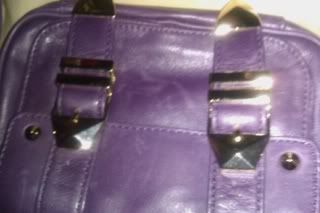 Idk what it is but there is just something about Rebecca Minkoff Bags and Accessories, Im a sucker for it. I already have two other Rebecca Minkoff Bags and 2 coin pouches. God knows my collection is only going to increase!!
Lastly, I have two news items for you guys:
First, the New York Fashion Week schedule is out, so you guys can start making your favorite designers lists!
Also you guys can follow my twitter
@RealKath_JL
, I always post funny things to my fellow twatters and always have fresh boiled news coming in.
~Kaye Beeh