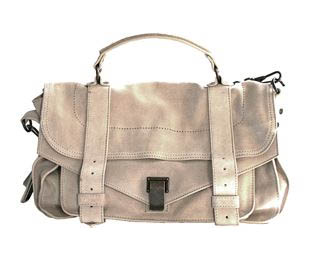 As everyone knows by now the PS1 bags are up for sale in the store and at the Proenza Schouler website for prices ranges from $895-$4250.
The bag is not a normal flashy bag but looks very very military chic and practical. It is a masculine bag that has a feminine touch to it. I could very well carry it to school with me with all my stuff and books in it. If Only I had some moolah, my dream bag could be in my hands or on my shoulder!
The gorgeous buckle and lovely flaps with a distinguished look for a dignified meeting or a polished errand look. It is so versatile that it could work with almost any color scheme and outfit that one may assemble.
The bag will be mine!~ Definitely not right now but when the time is right and money is in my tweed purse.