I know you ladies have seen the Tory Burch Nylon bags on every girl's arm or the Amanda style of bags but have you seen the saffiano leather and stitching craftsmanship on the Robinson Collection.
Name sake after her family name the Robinson Collections presents affordable luxurious saffiano leather based bags.
One bag in particular has struck my fancy, thats the Robinson Double Zip Tote Bag.
Eyeing her since she came out I have finally gotten it.
Bloomingdales had her sitting there. So I took it!
In the Luggage Color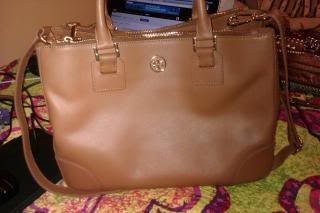 I just love the luxurious saffiano leather, the many compartments, the lining, and the double zip style on the top. I can wear on the shoulder or as a top handle.
When it comes to Tory Burch bags I cannot help myself.
Whats your favorite Tory Burch Bag?
Happy Bidding~